Voice of God announcer:
One of the areas of work I enjoy most of all as a voice over artist is being a live Voice of God announcer.
The role of the Voice of God announcer is to anchor an awards ceremony by announcing the live links for the evening's proceedings.
The voice remains out of sight but is still very much an essential part of the show.
The Voice of God style is synonymous with the big intro voice you'll hear on Saturday Night TV shows such as Ant and Dec's Saturday Night Takeaway, Text Santa and Beat the Star.
It just so happens that I've been the voice on all of those shows, and plenty more as you can hear (but not see) below…
Each Autumn The Barbican Centre in London plays host to the wonderful YCN Student Awards.
Running alongside universities, colleges and art and design schools globally they showcase emerging creative excellence based on diverse design briefs.
For the fourth year in a row it was a pleasure to be asked to be their Voice of God announcer for the live awards event.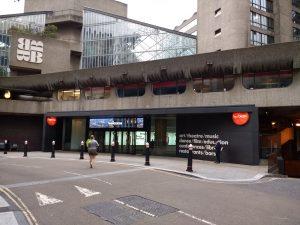 I sit in the projection room at the back of the 250 seat theatre with the the director. It's my job to introduce the commended names and highly esteemed guest speakers.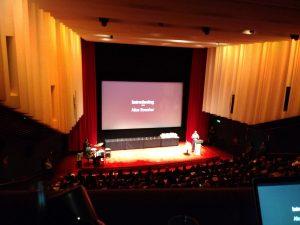 Timing has to be impeccable, awkward names pronounced correctly and the voice delivery needs to be clear, authoritative, credible. For me, as it's an evening of celebration, also fun!
For this particular event with its youthful audience I also enjoy adding my own favourite specialist ingredients; irony and parody.
I find the odd ad-lib also never goes amiss.
Always a fantastic event, in a wonderful setting it's a genuine pleasure to be part of.
It's also a real pleasure being a part of students and graduates at the very beginning of their careers in such a competitive industry.
As ever, the evening was a huge success.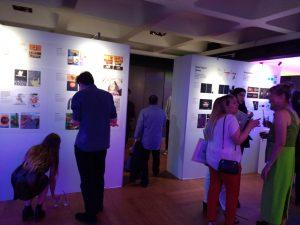 Afterwards, to the luscious Garden Room and Conservatory. With free bar and nibbles flowing freely there's the chance to see the exhibits and also meet the students.
Unsurprisingly, it's right up there with my favourite bookings of the year. Can't wait for 2018!
Click here to hear more of my VOG and TV work or click here to return to the homepage.