Emily Clays: Child Voice Over Artist
CITV announcer and promo voice.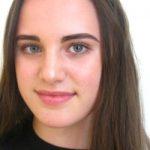 Although only 17 years old Emily Clays is already a veteran child voice over artist of well over 100 professional voice acting jobs. She's voiced everything from radio commercials and web film narrations to museum audio guides and for a rock album.
She's a promo and continuity voice for CITV, the children's ITV channel, watched by around 2.2 million viewers a week.
Emily has a deliciously husky, neutral, natural yet characterful sounding voice.
You can hear her as the audio guide voice actor for a Museum in Poland. She also recorded for the Swiss Metal Rock band Eluveitie for their album 'Origins'.
You're not necessarily likely to find it in Emily's music collection but it made no 1 in Switzerland, no 6 in Germany and topped the US Heatseeker album chart.
Emily's a breeze to work with and thrives on the pressure of live London sessions.
Just don't book the studio for too long – she usually nails it first take!
Emily can be booked through the contact page for home remote sessions or via her voice over agent Earache Voices: 020 7287 2291
To return to Jonathan Clays Voiceovers please click here.
CITV continuity and promos
Commercials samples:
Narration sample:
Museum audioguide acting sample: