One of the UK's most in demand football commentator voice over artists:
Nike's epic "The Last Game", Wii Sports Resort, Nexen Tire, Top Trumps, Transferwise.
Hard to imagine as a ten year old Aston Villa fan commentating over a game of Subbuteo that one day I might actually make a living out of doing just that; being a football commentator voice over. I've always loved football.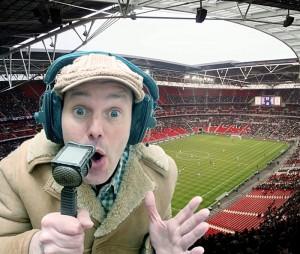 "I wouldn't say I was the best football commentator voice over in the business…but I'm in the top one"

Brian Clough (sort of)
Fast-forward thirty odd years and I'm asked by the son of Peter Withe to mimic the very lines from the 1982 European Cup final for a Villa football anthem. I could hardly say no could I?
Have a listen. It turned out rather well.
As one of the UK's most widely used and most established sports voiceovers, I've worked as a football commentator voice for nearly twenty years now.
You'll hear my football commentator voice over work on anything from TV Promos, radio ads and interactive projects to epic film productions such as Nike's award winning 'The Last Game' film which aired globally for the 2014 World Cup. 110 million Youtube hits can't be wrong.
Below are examples of some of the productions my voice has been used for:
Nexen Tires' 2016 global tv campaign featuring Manchester City FC.
2018 World Cup promo session for UKTV Gold.
Transferwise which has had nearly 10 million Youtube views:
What next?
If I can help you with your next football commentator project then please get in touch. I'm happy to record for you from my own professional home studio or equally happy travelling to another studio for the recording.
Just click here to get in touch.
Back of the net!
Top Trumps commercial
Nike online/ TV commercial